Art has been my passion since my first scribbles and crayon drawings. Now I work with several mediums, doing landscapes, portraits and life drawings. My work is somewhere between realism and impressionism. It reflects my love of shapes and colors, and of nature and the human figure. I believe, that when I paint or draw, my imagination, and the memories of places I've been, and the people I've met, guide both my brush and my pencil.
EDUCATION
BA from St. Catherine University, St. Paul, MN
Studied art at College of St. Benedict, St. Joseph, MN
PROFESSIONAL EXPERIENCE
Artist
Elementary Teacher, Anoka Hennepin, District 11
Currently hosting Life Drawing Co-op at my studio in the California Bldg.
PAINTINGS MAY BE SEEN AT:
Currently showing at Dow Gallery in St. Paul, MN
Art Force Academy Community Art Showcase in NE Minneapolis
Studio / Gallery 109A in the California Building, NE Minneapolis
SELECTED EXHIBITIONS AND SHOWS
Ambiente Gallery, Minneapolis,MN, 2020
Banfill Locke Gallery, Fridley Minnesota, juried shows, 2020 and 2019
Fridley Public Library solo show, 2018
Nordhaus Tiny Gallery, in NE Minneapolis
St. Catherine University, Alumnae Show
Minneapolis Drawing Workshop
NEMAA Fall Fine Arts Shows and Spring Auctions
Hennepin County Library, New Hope, MN
Heritage Center, Mpls., MN
Robin Gallery, Robinsdale, MN
WORK IN PRIVATE COLLECTIONS
Minneapolis, MN
Zurich, Switzerland
Big Sky and Bozeman, Montana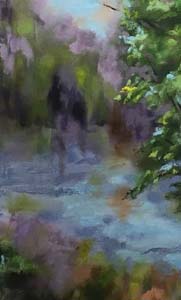 Detail Picture of "Reflections in the Pond"